This tutorial will show you a quick way to aply your designs into a realistic t-shirt using Photoshop.
1. Download the T-Shirt Model:
Download this file, extract using winrar or another similar software, and open the "Camisa.tif" file using Photoshop.
2. Changing the color:
Notice that it's possible to change the color of the t-shirt, by doing that you can modify it for your own purposes. Select the "Shirt" layer then open the "Hue/Saturation" options (CRTL+U). In this case, I want to have a lighter gray color, so just change the "Lightness" value to +30.
3. Importing the design:
Go to File>Place. Select the design file you want to aply, it's recommended that you use a good resolution image.
4. Positioning the design:
Resize and place the design where you desire to aply it, then hit ENTER.
5. Overlaping parts:
Notice that some part of the design can overlap the t-shirt area, we will solve this now.
6. Dele "Your Art" Layer:
Cilck on "Your Art" layer, then drag and drop it on the trashcan icon..
7. Aply the mask: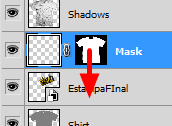 Click on the "Mask" Layer's mask, then drag and drop it onto your design's layer.
8. Disable the mask link:
Click on the litle chain icon to disable the link between the mask and its related layer
9. The mask is ready:
Now you can move and resize the design all around the t-shirt without concerning about overlaping areas.
10. Final Adjustments:
Lower the oppacity for the "Shadow" layer, set it to 90%. Now they look more smooth, giving the t-shirt a more realistic touch.
11. Final Result:
Now you can give your t-shirt designs a more professional touch, you can also present it to your clients in a more realistic way, giving them the possibility to visualize the real t-shirt when finalized.