This is Paperview for Blogger. This is a really cool looking premium template. It's designed by me for my old blog, now I have decided to make it available for you guys, I hope you enjoy it!

It features a news paper style, with a very cool contrast and stylish titles. You'll get a custom menu at the top, and a great 4-column footer! That's even more place for content and widgets!

It features a nice looking header, a cool customizable menu, custom lists, blockquotes and also a custom comments section.

If you have any questions or problems with that template, please drop me a comment, or use the contact section.



Update: I have uploaded a new version with the new custom comments section, following the feedback from Asker Akbar in the comment below.





Update 2: Fixed the bug with the "Read Full Post" message that was showing in another language. Following the feedback given from Roshin in the comments below.






Update 3: How to use the post summaries script in Paperview:



Write the following code EXACTLY how it is, including the spacing between lines, in your post.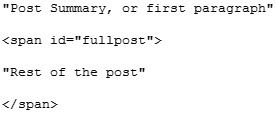 And replace the "Post Summary, or first paragraph" for you post summary, and the "Rest of the post" for the rest of your post content.